I finally texted my only batchmate in town to watch Barcelona: A Love Untold together! I was super happy that there was someone I could text who didn't think Pinoy movies were beneath him. Haha. C is a fan of Daniel Padilla while I could say I'm unofficially (coz don't you need to be in an actual fans club?) Kathryn's fan. She's got a lot of anti-fans but my sis and I love her. She's so cute!
I enjoyed the movie. The ending wasn't as OA as I feared. The conflict kinda blew up much later in the story. There were some English lines that I found unnatural (Stop acting like you know my pain! Really?)  but #Pinoymovies. Haay whaaay. 
Anyway the good points:
My story may not be the typical OFW story but I have a story to tell!
Kath's character, Mia, isn't the type who leaves the Philippines to send her siblings to school or support her family. She's well-off. No poverty porn in this film. Her family issues and a desire to prove something had her working jobs she'd never do back home. I like Mia because she represents a certain type of Filipina abroad that's not usually featured as an OFW. She's the one who would be better off going back to the Philippines. Indeed she's not the typical OFW character but that character exists. In real life.
My sister commented, "I feel like they represented the Filipino community abroad quite well." There was a glimpse of Pinoys who are typically helpful to their kababayans in search for jobs,  the friction in some families due to money matters, the bullying among kababayans etc.
Also for those who find it unbelievable, graduates and professionals do swallow their pride to clean washrooms and do other type of work to get by. I graduated from a "prestigious" university at naglinis na din ako ng CR. That's why I get irritated with friends/relatives who act patronizing towards people in customer service.
As for bullying, my sister was bullied by some Filipinas when she worked at Mcdo until she bitched at them. Itago nalang natin sila sa pangalang Imelda at Mary Lou. One time, as part of the usual bullying, one of them asked her "Oh anong ginagawa mo?!" while she was on the till. She answered fiercely, "None of your business." They never bothered her again. 
Mia's clothes
So sino ba ang stylist/costume designer ni Kathryn sa Barcelona? I love the color palette and simplicity of her outfits. I looked for movie stills but there's no good ones online. Hi Star Cinema, that's something to think about. Post actual movie stills where we can see the star's full outfits. You can make money out of retailers. -_-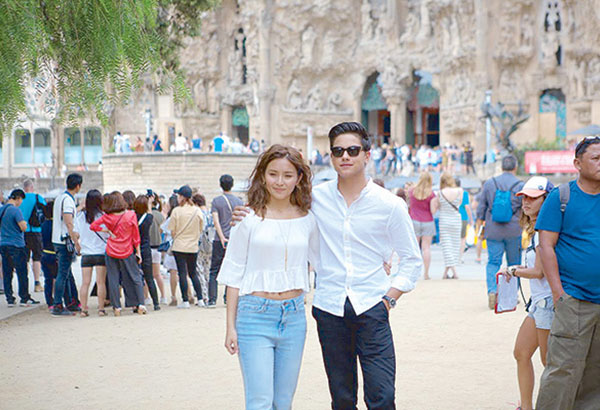 Ely's character
I don't know, I just like him as a nice guy with issues. Lol. Okay I like that he's a nice guy. Not a typical nice guy but a kind character with a lot of guilt and a lot of talent. 
So far that's it. I don't want to analyze it too much. It's a movie that's meant to be enjoyed not deconstructed until only 3 people can understand it in the whole universe. Do you want to watch some esoteric film when you work 8 hours a day and are stressed at the office? All the more if you're someone who stands all day running errands, dealing with unreasonable and bratty customers!
This is why I love discussing mainstream romcom with my sister. Many of our friends look down on these movies and we feel slighted when they show their disapproval (indie films sound a lot cooler). But you know what, it all boils down to what kind of stress you want. Mamili ka ng stress. Yung stress ng pretending to like what is currently cool or acceptable o yung stress sa resistance ng ibang tao when you're true to yourself? We prefer to give zero Ducks.